Where's Kathy?
Trout Fishing In America
Saturday, November 10, 1pm
The Sellersville Theatre
Sellersville, PA
Kathy is excited to welcome back to our area Trout Fishing in America! TFIA is the longstanding, four-time GRAMMY nominated musical partnership of Keith Grimwood and Ezra Idlet and have been a part of Kids Corner for much of the past 30 years! A willingness to at once make fun of our most annoying daily habits, then to touch our hearts with tender and passionate images of family life, is what makes the connection between Trout Fishing In America and its audiences so compelling and poignant. For more info, st94.com
11th Annual
Scarecrow Walk & Design Contest
Now thru Oct 31 
Morris Arboretum
Philadelphia, PA
More than 30 scarecrows will be on display for three weeks along Oak Allée. Come vote for your favorite in the "A Moment in Time" theme to determine which 'crows will be the top five prize winners! For more info, morrisarboretum.org
Spooky Mini Golf
Weekends in October
Franklin Square  
Philadelphia, PA
Play a round of the spookiest mini golf in the city, as Philly Mini Golf is transformed into spooky fun for the Halloween season with fog, lights, music, and surprises! Also, check out Bark-or-Treat Trail where you can dress up yourself and your four-legged friend for a Halloween celebration with a trail of treats and fun activities throughout the Square - Sat Oct 13. For more info, historicphiladelphia.org
Wow in the World Pop Up Party
Sat Dec 8 11am
The Keswick Theatre
Glenside PA 
The Wow in the World Pop Up Party brings this insanely popular science-themed podcast out in the world. Host Mindy Thomas weaves short interactive games and foley-infused comedy skits between science themed songs from The Pop Ups! This highly interactive show will engage curious kids and their grown-ups in science, wonder, imagination, and music and leave them all saying "WOW"! For more info, keswicktheatre.com
Boo At The Zoo.
Weekend in October
Elmwood Park Zoo
Norristown, PA
Boo at the Zoo returns on Saturday, October 13. Bring the little ones for a fun-filled evening for princesses, ghosts and superheroes of all ages. Come dressed in your creative costume and enter our costume contest. Don't forget your trick-or-treat bag, as treat stations will be located throughout the zoo. On Oct 12, a special sneak preview of Boo at the Zoo specially geared for guests with special needs, their families and caregivers. This is a great opportunity to experience and enjoy Boo at the Zoo in a more relaxed setting, perfect for those with sensory sensitivity. For more info, elmwoodparkzoo.org
Wizards & Witches Weekend
(formerly Harry Potter Festival) 
Oct 19 & 20
Various Locations
Chestnut Hill, PA 
The Chestnut Hill Business District introduces a celebration of all things mystical and enchanted during the ALL NEW Witches & Wizards festival weekend. With two days of magical possibilities, October 19 & 20, Witches & Wizards ushers in a new fall tradition that mixes one-part spooky thrills, one-part ghosts of wizards-past, and one-part family fun for an action-packed weekend in the charming urban village. For more info, chestnuthillpa.com
Family Fall Film Series
The Colonial Theatre 
Phoenixville, PA
Once again the Colonial Theatre invites families to view some classic movies as they were meant to be seen - on the big screen!
Oct 20: The Iron Giant
Oct 27: The Goonies
Nov 10: The Last Unicorn
Nov 17: The Last Starfighter
Nov 24: Back To The Future
Dec 8: Home Alone
Dec 22: A Christmas Story
Dec 29: A Tree Grows In Brooklyn
​For more info, visit, thecolonialtheatre.com
Halloween
Hikes & Hayrides
Fri Oct 26
Schuylkill Center
Philadelphia PA
SCEE's annual Halloween festival—a family favorite—includes a signature hike through their candlelit forest to meet friendly nocturnal animals. The animals will delight you with tales and treats in a beautiful evening forest. After your hike, enjoy hayrides, craft activities, and food truck offerings for dinner. End the night with s'mores by the campfire. For more info, schuylkillcenter.org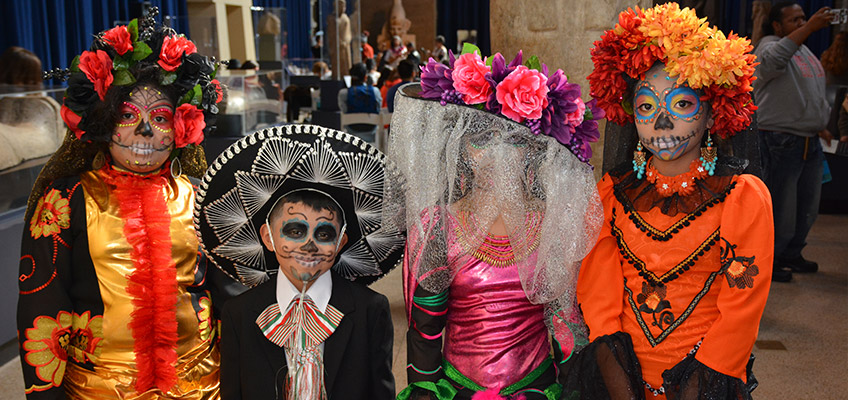 Día de los Muertos Festival
Sat Oct 27
The Penn Museum
Philadelphia, PA
The Penn Museum celebrates Día de los Muertos as we honor our departed ones through music, dance, and art. The centerpiece of the afternoon is a traditional ofrenda (altar) created for the celebration.  After 5:00 pm, the festival continues outdoors with entertainment, cash bar, dancing, and more! For more info, pennmuseum.org