Where's Kathy?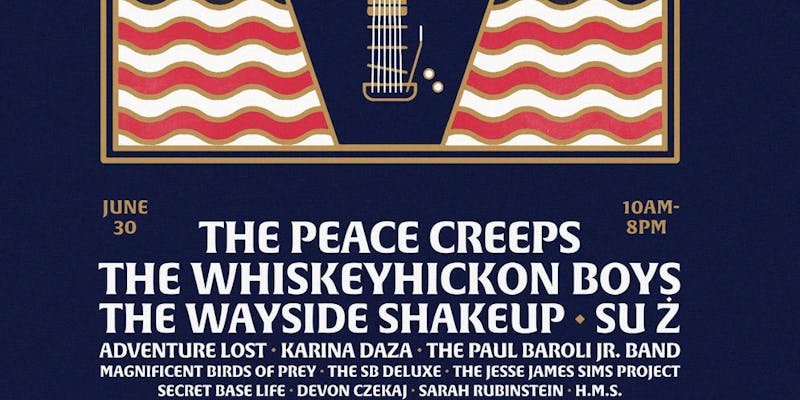 On The Delaware Music Festival
Pennypack on the Delaware Park
Saturday, June 30
Philadelphia PA
On The Delaware is a new music festival and part of Wawa Welcome America's week-long celebration of our nation. There will be 15 bands on 2 stages, yoga on the pier with Marghi Insignares (10am), kids activities all day including a guest visit from everyone's favorite big kid, Kathy O'Connell (1-3pm). The festival will also include arts and specialty goods vendors, a community and civic corridor, food trucks and more! . For more info, On The Delaware Music Festival
Kindie Music LIVE!
We love Kindie music (that's independent music for kids - Kindie!) and there's only one thing better than listening to the latest songs from your favorite Kindie artists, and that is seeing them LIVE on stage! Below is a list of just some of the wonderful live music for families happening in our region in the coming months.
July 6: Justin Roberts / Longwood Gardens, Kennett Square PA
July 7: Dan Zanes / Mt. Gretna Playhouse, Mt. Gretna PA
July 10: Mister G / Colonial Theater, Phoenixville PA
July 14: Billy Kelly / Hopewell Theater, Hopewell NJ 
July 17: Gustafer Yellowgold /Colonial Theater, Phoenixville PA
July 20: Kidchella: Shine & The Moonbeams and The Alphabet Rockers, Smith Playground Philly
July 24: Alex & The Kaleidoscope / Colonial Theater, Phoenixville PA  
July 31: The Cat's Pajamas / Colonial Theater, Phoenixville PA
August 14: The Not-Its! / Colonial Theater, Phoenixville PA
August 17: Kidchella: Red Yarn and Vered & The Babes, Smith Playground Philly
August 19: Trout Fishing in America / Philadelphia Folk Festival, Upper Salford Township PA
Gretna Music 4 Kids presents
Dan Zanes' Lead Belly, Baby!
Saturday July 7
Mt. Gretna Playhouse
Mt. Gretna, PA
GM4K is our brand new family-friendly series devoted to bringing outstanding entertainment and cultural experiences to music fans of all ages. Dan Zanes, Grammy-winning children's entertainer, will be joined by Claudia Eliaza to present a sensory friendly one hour concert that explores the music of famous American folk and blues musician Lead Belly. For more info, gretnamusic.org/
Philadelphia Chinese
Lantern Festival
now thru June 30
Franklin Square
Philadelphia, PA
The Philadelphia Chinese Lantern Festival in Franklin Square returns with all-new, handcrafted lanterns that illuminate when the sun sets. It's truly a sight to see.For more than five weeks, the park will glow with new handcrafted lanterns constructed by lantern artisans from China. For more info, historicphiladelphia.org
Philadelphia Mini Maker Faire
Pennovation Center
Sunday June 24
Philadelphia, PA 
Philadelphia Mini Maker Faire is a volunteer-organized, family-friendly celebration featuring local do-it-yourself science, art, robots, crafts, tech, music, hands-on-activities, and more. Maker Faire is a gathering of fascinating, curious people who enjoy learning and who love sharing what they can do. We call it the Greatest Show (& Tell) on Earth - a family-friendly showcase of invention, creativity, and resourcefulness. For more info, philly.makerfaire.com
Revolution Place
Now Open
Museum of the American Revolution
Philadelphia, PA
What was life like in Philadelphia during the Revolutionary War? The Museum of the American Revolution's new discovery center, Revolution Place, brings to life the Museum's lively, diverse Old City neighborhood during the 1700s and invites visitors to learn through hands-on exploration. Revolution Place features four key recreated historical environments to immerse and engage families, especially kids 5 – 12 years-old, in the places where the American Revolution took root. For more info, amrevmuseum.org
50th Anniversary Concert
Philadelphia Boys Choir & Chorale
Sunday June 24 @ Kimmel Center
Philadelphia, PA 
Join the PBCC for a concert in Verizon Hall celebrating the past and the future of PBCC on their 50th birthday, featuring both brand new works and a selection of favorites from the past 50 years! All alumni are invited onstage too! For more info, kimmelcenter.org
Blue Cross RiverRink Summerfest
Open Now
Penn's Landing 
Philadelphia, PA
Blue Cross RiverRink Summerfest, Philadelphia's only outdoor roller skating rink, is open for its 4th season and the perfect place to relax and hang out with the entire family. Entrance to the park is free and open to the public. Roller skating, mini-golf, games, rides and concessions are pay-as-you-go. ​For more info, visit, delawareriverwaterfront.com