Where's Kathy?
Trout Fishing In America
Sunday, August 19, Noon
THE LOBBY STAGE
Philadelphia Folk Festival
Schwenksville, PA
Kathy is excited to welcome back to our area - AND to the Philadelphia Folk Festival - the one and only Trout Fishing in America! TFIA is the longstanding, four-time GRAMMY nominated musical partnership of Keith Grimwood and Ezra Idlet and have been a part of Kids Corner for much of the past 30 years! A perfect addition to the lineup of musicians from around the world, gathering to celebrate the rich diversity of folk music. Join Kathy and Trout Fishing In America THIS SUNDAY AT THE LOBBY STAGE - showtime is at Noon! For more info, folkfest.org/
Kindie Music LIVE!
We love Kindie music (that's independent music for kids - Kindie!) and there's only one thing better than listening to the latest songs from your favorite Kindie artists, and that is seeing them LIVE on stage! Below is a list of just some of the wonderful live music for families happening in our region in the coming months.
August 14: The Not-Its! / Colonial Theater, Phoenixville PA
August 17: Kidchella: Red Yarn and Vered & The Babes, Smith Playground Philly
August 19: Trout Fishing in America / Philadelphia Folk Festival, Upper Salford Township PA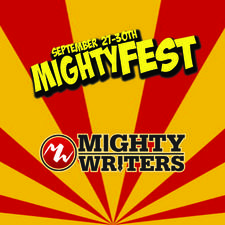 Mighty Writers presents
MIGHTYFEST!
Sept 27-30 
various locations
Philadelphia, PA
MightyFest, a four-day literacy festival and includes a literacy carnival for kids, a Soul Music Dance Party, a talk by Nikole Hannah-Jones and a Gospel Breakfast w/tribute to the Dixie Hummingbirds. The mission of Mighty Writers is to teach kids ages 7 to 17 to think and write with clarity so they can achieve success at school, at work, and in life. For more info, mightywriters.org
VOLTA
Cirque Du Soleil 
now through August 19
Greater Phila Expo Center
Oaks, PA
VOLTA is about being true to oneself, fulfilling one's true potential, and recognizing one's own power to make it possible. Inspired in part by the adventurous spirit that fuels the culture of street sports, the show weaves acrobatics in a visually striking world driven by a stirring melodic score. For more info, cirquedusoleil.com